Looking for a breathtaking, off-grid adventure with your pets? Less than a two-hour drive from Death Valley National Park and five hours from Joshua Tree, Alabama Hills is a sweet treat for you and your dog!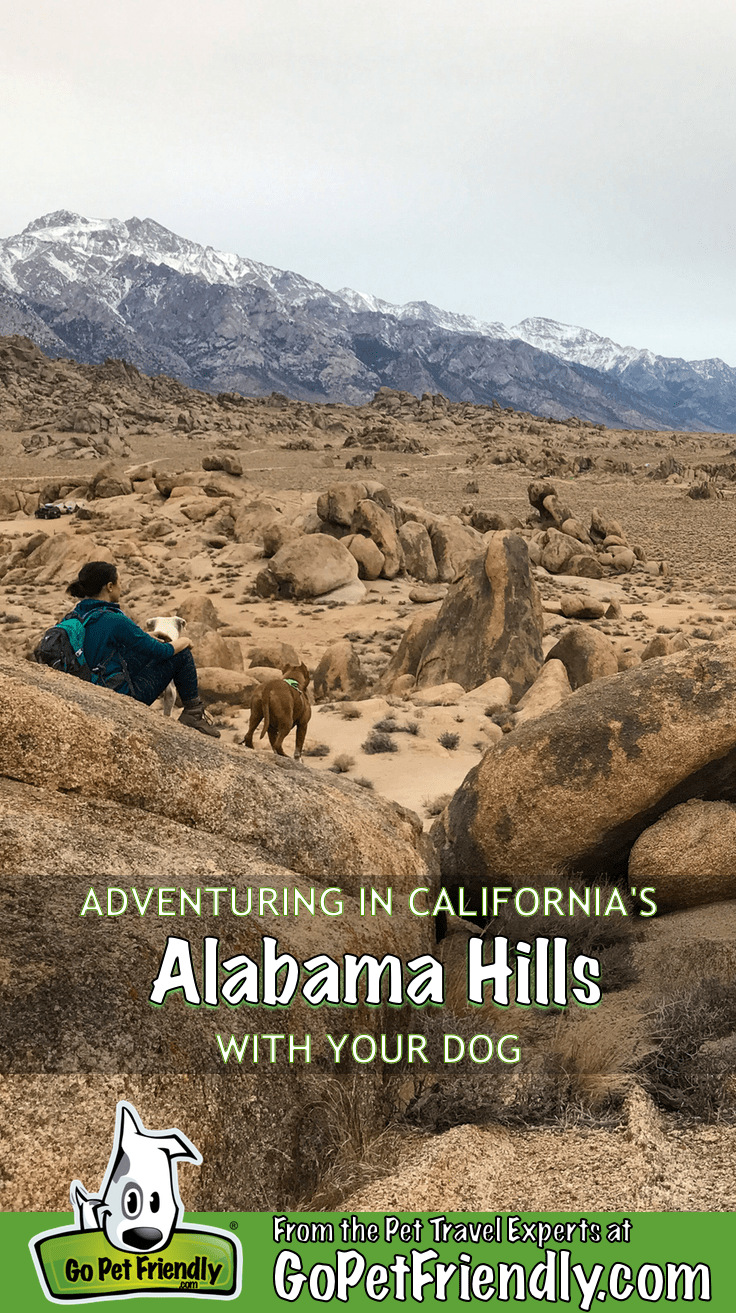 With rounded boulders and wind-etched terrain, California's Alabama Hills are a wonderful place to explore with your dog. The Bureau of Land Management (BLM) oversees this spectacular landscape, set against the eastern slope of the Sierra Nevadas.
It's like Joshua Tree National Park without the Joshua trees … and with a lot more freedom for your dog!
Exploring Alabama Hills With A Dog
The Alabama Hills are a destination for day hikers, rock climbers, campers, mountain bikers, and more. Essentially, anyone who enjoys exploring unique landscapes with outstanding mountain views will love it.
Cool Whip, Hercules, and I fell into several of those categories as we explored Alabama Hills in our dog friendly rental adventure van. We camped out, hiked the trails, searched for natural arches, and thoroughly enjoyed the peace and quiet.
READ MORE ⇒  Renting A Dog Friendly Adventure Van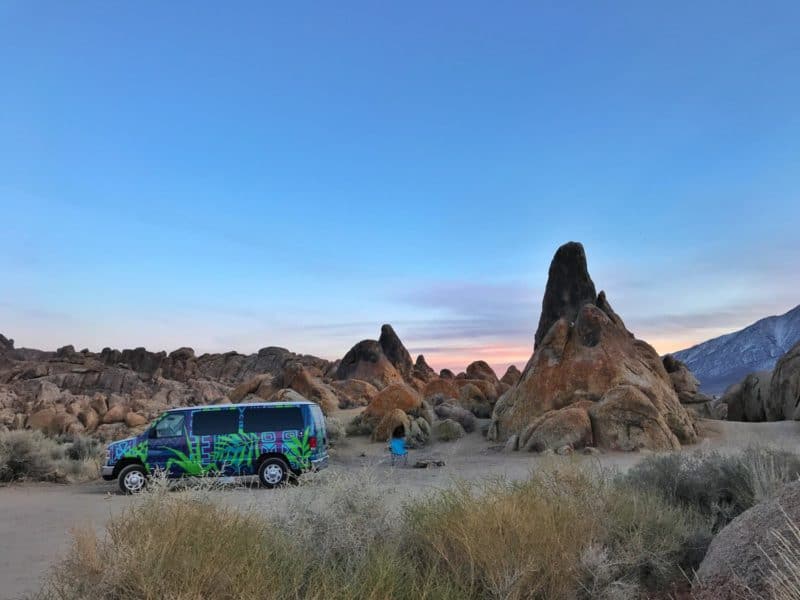 Movie History
Located just off Highway 395 near Lone Pine, California, Movie Road leads into Alabama Hills. This wash-boarded and sometimes sandy route is doable in most vehicles as long as you take it slow and use extra caution if there's been rain.
The road is named for the numerous movies that were filmed in the area. In fact, hundreds of movies and countless commercials have been filmed at the Alabama Hills! Some titles you might recognize include Rawhide, How the West was Won, Tremors, Gladiator, and Iron Man.
If you're a movie buff, pick up the self-guided tour brochure highlighting some of the filming locations from the The Museum of Western Film History in Lone Pine.
And, while you're there, don't overlook the lovely little town of Lone Pine! Just 10 minutes from Alabama Hills, this is your closest access to gas stations, groceries, and dining. Several of the restaurants even have dog friendly patios when you're ready to kick back and relax. And some of the hotels have pet friendly rooms, if you're not up for camping.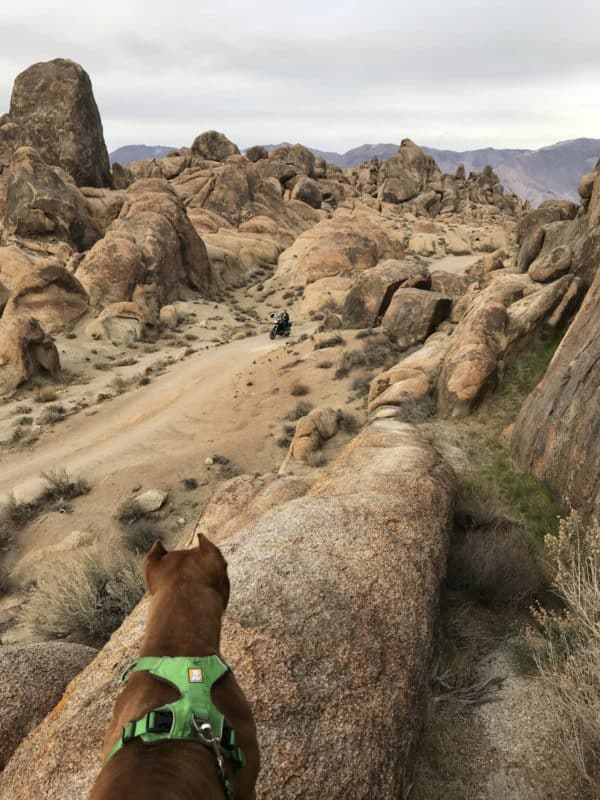 Camping In Alabama Hills
Camping options are plentiful throughout the Alabama Hills area. Turtle Creek Campground (BLM), Lone Pine Campground (Forest Service), and Portagee Joe Campground (Inyo County) all offer designated campsites for RVs and tents.
In addition, dispersed camping is available. Though, the BLM recently implemented some restrictions due to trash and waste. You can find more information here.
The Alabama Hills Stewardship Group and the BLM monitor the health of the land and occasionally fence off areas to preserve and promote the growth of native plants. Please be respectful if you see their barriers and take care not to disturb sensitive environmental areas.
READ MORE ⇒  A Beginner's Guide to Camping With Dogs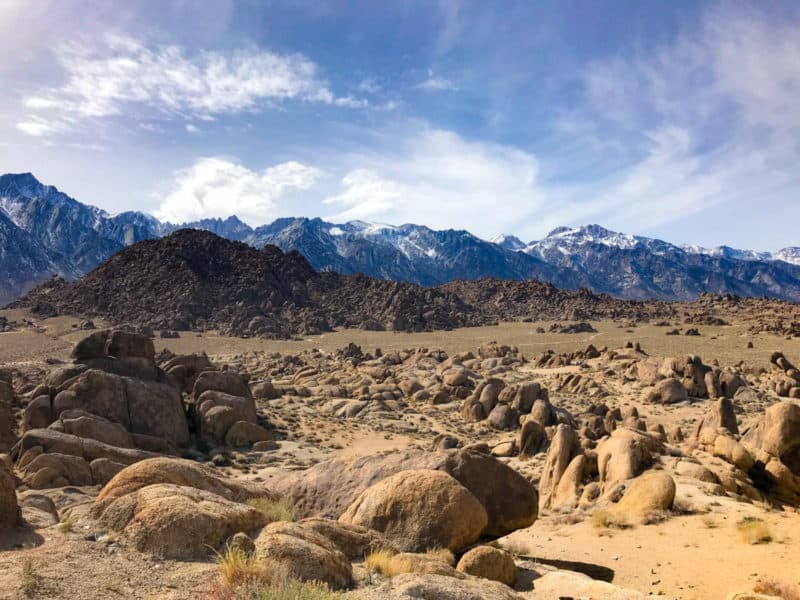 Hiking In Alabama Hills With A Dog
Rules for Pets at Alabama Hills – Lone Pine, California: The trails at Alabama Hills are pet friendly!  Dogs must be leashed and cleaned up after.
One of the big draws at Alabama Hills are the natural arches. Mobius Arch and Lathe Arch are two of the most popular because they provide perfectly framed views of Mount Whitney, the tallest mountain in California and the highest summit in the continental U.S.! And the trail to these arches is short and well maintained, so it's a great option for everyone.
If you're not up for a hike, pack a picnic and take a drive up to the Whitney Portal. It's about 10 miles from Alabama Hills and the road climbs about 4,000 feet! The view of Alabama Hills from up there is fantastic.
READ MORE ⇒   Off-Leash Hiking on Federal Lands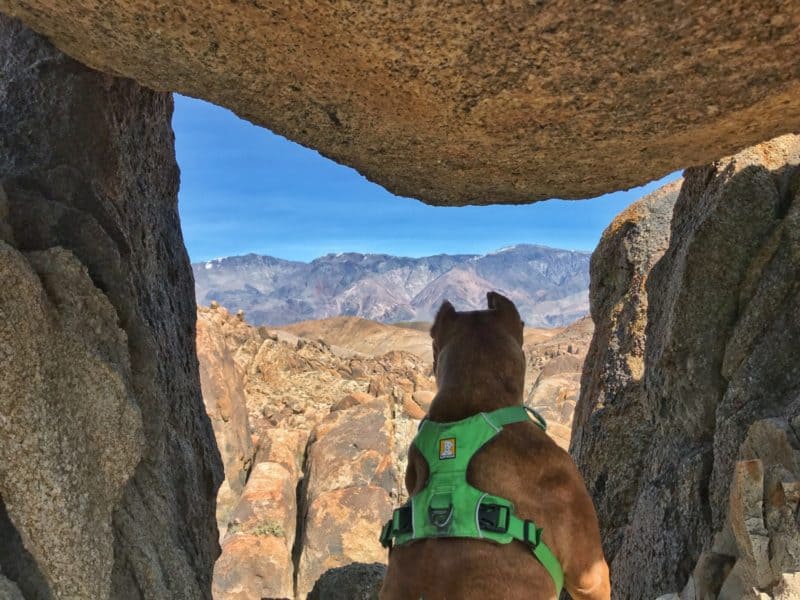 Cyclops Arch and Boot Arch can be found if you venture north of the main area in Alabama Hills. There are no signs marking the trails for these two arches, so get directions online before you go.
These arches are worth the effort if you and your dog enjoy exploring less-defined trails and a bit of solitude. And there are a multitude of other unnamed arches, holes, and lookouts through the Hills that you'll come across while wandering among the boulders!
The rocks in the Hills are part of fun. Their unique texture makes the boulders very "grippy" and fairly easy to scramble across.
Cool Whip and Hercules climbed up and over every rock they encountered without any abnormal wear and tear on their paws. But protective boots are a good idea if your pup has sensitive paws or is not used to rough textures.
READ MORE ⇒  Which Dog Boots Are Best?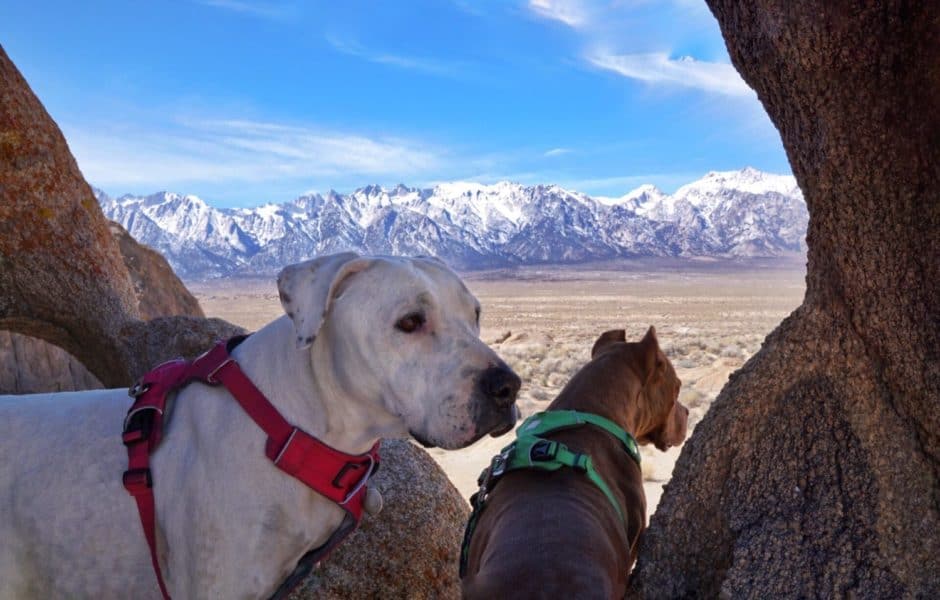 When To Go
Alabama Hills is very popular in the spring and late fall when the weather is ideal for exploring outdoors (highs around 65-70 degrees). Use caution when visiting this area in the summer as the temperatures climb into the high 90s.
There is no potable water in the Hills, so be sure to fill up before you leave Lone Pine. Once you arrive at Alabama Hills, you and your dog are not going to want to leave!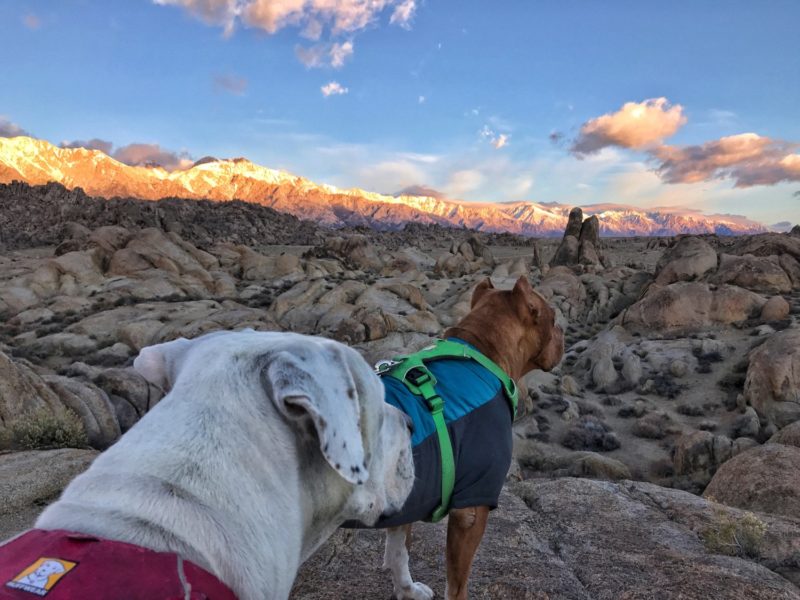 Have you explored Alabama Hills with your dog? Share your tips in the comments below!

(Visited 4,271 times, 1 visits today)



Credit : Source Post