Are you flying with a cat for the holidays? Or making a big move? Don't worry. You can do it. You just need to plan ahead.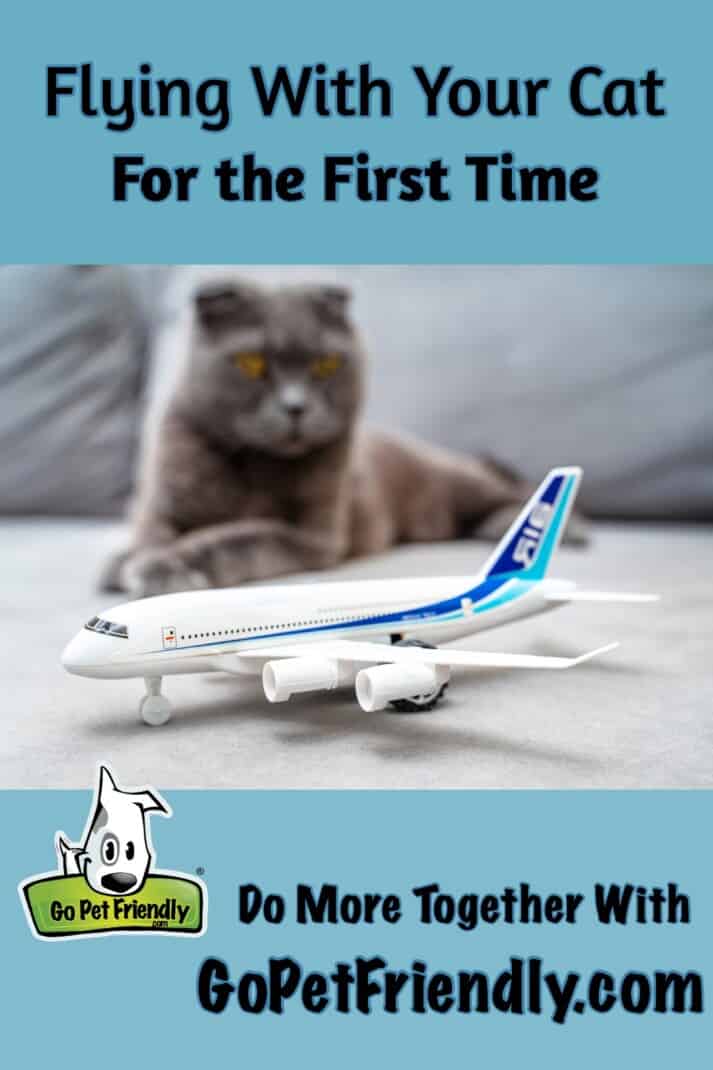 Can You Fly With Your Cat?
Many airlines allow you to fly with a cat in the cabin or cargo. But do not expect to buy a ticket and show up with your cat in a carrier. Airlines have many regulations to follow.
You will also want to be sure your cat feels comfortable in a carrier and with the noise and stress of travel. If the only time your cat has been in a carrier was on the ten-minute drive to the vet, build up slowly. And even then, not all cats are suited to long-distance travel. Consider how stressed your cat will feel on a plane.
So the short answer is yes, flying with your cat is possible. But you will need to prepare well in advance!
READ MORE ⇒ US Airline Pet Policies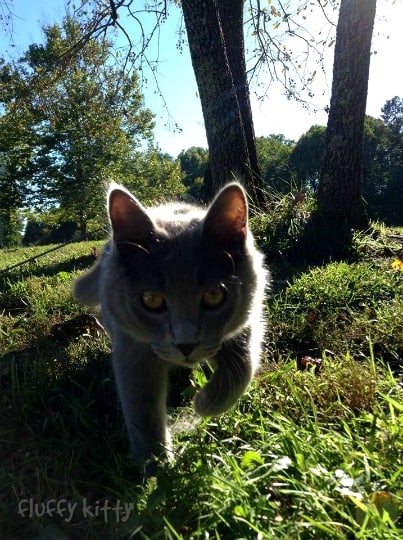 Preparing To Fly With Your Cat
What do you need to fly with your cat?
Plan your flight well in advance. You will need help from your vet. Arrange the flight with your airline. And, of course, you will need to prep your cat for their big adventure.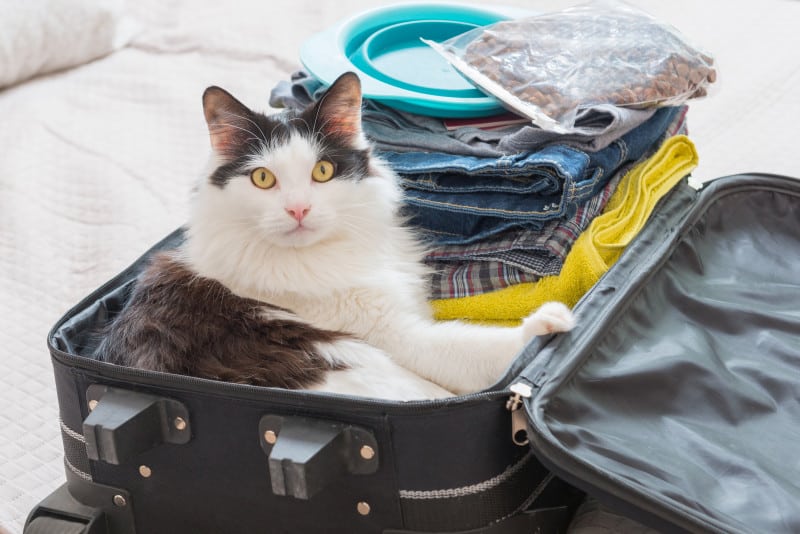 Visiting The Vet
Your vet is a vital partner in getting your cat ready to fly. Do not delay making an appointment. Many offices are busy and scheduling appointments weeks in advance.
Your cat will need a microchip and must be current on all vaccinations. The airline will want a vet certification that your cat is healthy. And your destination will have its own requirements.
For example, Hawaii has a strict policy to prevent rabies from coming to the islands. To avoid a long quarantine, your paperwork must arrive in their Animal Industry Division at least 10 days before you land.
READ MORE ⇒ Hawaii's Pet Travel Requirements
And if traveling outside the United States, each country has its own rules. Research each country's requirements for arriving with a cat at the US State Department website. 
Many countries require an international health certificate completed within 10 days of your departure date. You will need to send it to your local USDA office to be endorsed before you leave.
If your cat is anxious, ask your vet if they recommend medication for the trip. Please be aware that sedation is usually not recommended for pets flying in cargo as it may cause heart or respiratory problems. But your vet will provide the best advice for your cat.
Making Arrangements With The Airline
Call the airline you are flying with to confirm their requirements and reserve space for your pet. Airlines generally limit the number of pets allowed to fly in the cabin. So reserve your spot immediately.
Have the airline webpage open when you call. Confirm their policies are still current. For example, most airlines have strict rules about the dimensions of pet carriers (affiliate link). And generally, your cat and carrier must weigh no more than 20 pounds combined.
READ MORE ⇒ US Airline Pet Policies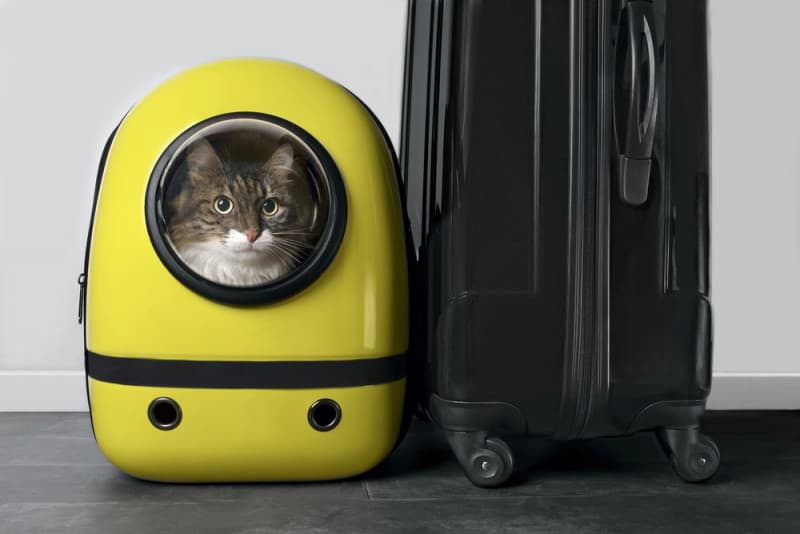 Ask the airline about carry-on and pet fees. Yes, you will have to pay for your cat to fly. But may also need to pay for extra baggage since your cat carrier is a carry-on bag. Or be prepared to check luggage.
Extra baggage fees start around $30 and vary by airline. Pet fees average $125.
When in doubt, ask again. Take notes. And keep the name of the agent you spoke with.
Preparing Your Cat And You
With detailed notes on the dimensions your airline requires, shop for a comfy carrier. Pets in cargo require a hard crate. But if your cat is in the cabin with you, they might find a soft-sided carrier more comfortable.
Get your cat used to traveling in the crate by associating it with positives (treats, caresses, etc.). Maybe you want to start feeding your cat in it? Add things that make your cat comfortable and feel at home—like a soft t-shirt you slept in or a favorite toy.
And don't forget to get a sturdy harness and leash (affiliate link). Airline security will require you to take your cat out of the carrier, and you do not want them to escape! So help them get comfortable being on leash before the big day.
READ MORE ⇒ Choosing The Best Harness For Your Cat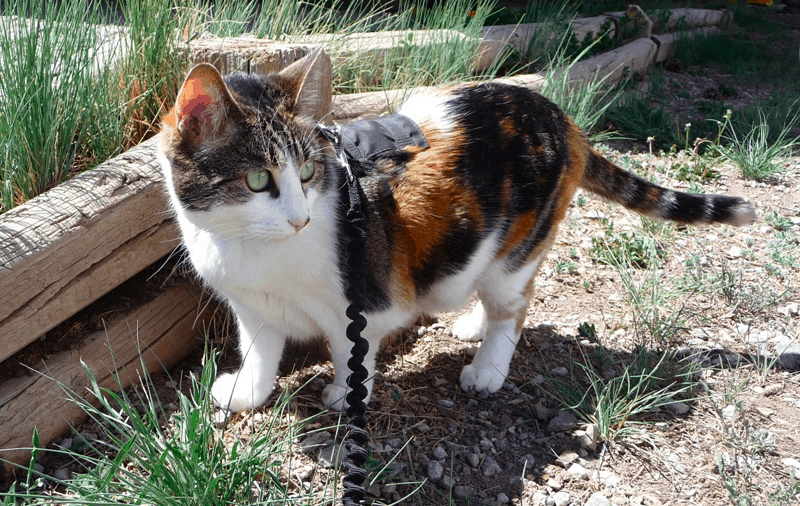 If the worst happens and you get separated from your cat, you will want to have several ID tags. A leash tag, harness tag, and a label on the carrier are all good ideas.
READ MORE ⇒ Best ID Tags If Your Pet Goes Missing While Traveling
To be safe, make copies of all your documents (vaccinations, rabies certificate, health certificate) and keep these with you in your carry-on while traveling. And keep a digital backup on your phone.
Finally, prepare yourself well in advance. Scrambling at the last minute for your phone charger or last-minute packing will stress-out your cat (and you). Calmly load your bags into the car while your cat is busy elsewhere (perhaps during dinner). When it is time to leave for the airport, make it as uneventful as possible.
At The Airport With Your Cat
Okay, the big day is here. You got this. After all, you have been preparing for a long time.
First, make yourself calm. Deep breathing, meditation, or humming are all calming. And if you feel relaxed, your cat will relax too.
Expect to be stared at; you will feel like a celebrity when you walk around the airport with a carrier that announces "live animal" on both sides.
Security will ask you to take your cat out of the carrier. They will scan the carrier and swab your hands. Some cats may be afraid to come out of their carrier, so you may experience resistance from your furry travel companion. Do not be afraid to ask security if you can step out of line and go to a quieter area before taking your cat out.
Oh, and you did remember the harness and leash, right?
While waiting to board, open the carrier a bit and stick your hand in there to comfort your kitty (or sneak him a yummy treat). You will both feel better for it.
If your cat is flying in cargo, notify one of the flight attendants. Ask them to confirm with the pilot that the oxygen and temperature are being regulated in the hold.
Last but not least, try not to stress! Telling yourself it will be okay will let your cat feel it, too.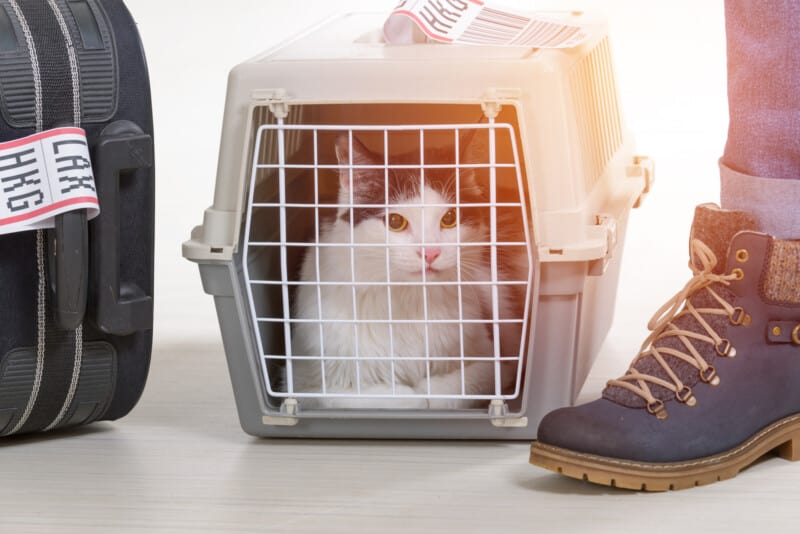 When You Arrive With Your Cat
Once you have arrived safely, you may feel tempted to jump right into a busy array of activities. But give your kitty time to decompress from traveling. Plan a quiet first day in your hotel room to give your cat a chance to get to know her new, temporary home.
You might also want to avoid feeding new treats, in case your kitty has a case of travel tummy. And make sure they have access to water, because they might not drink much while traveling.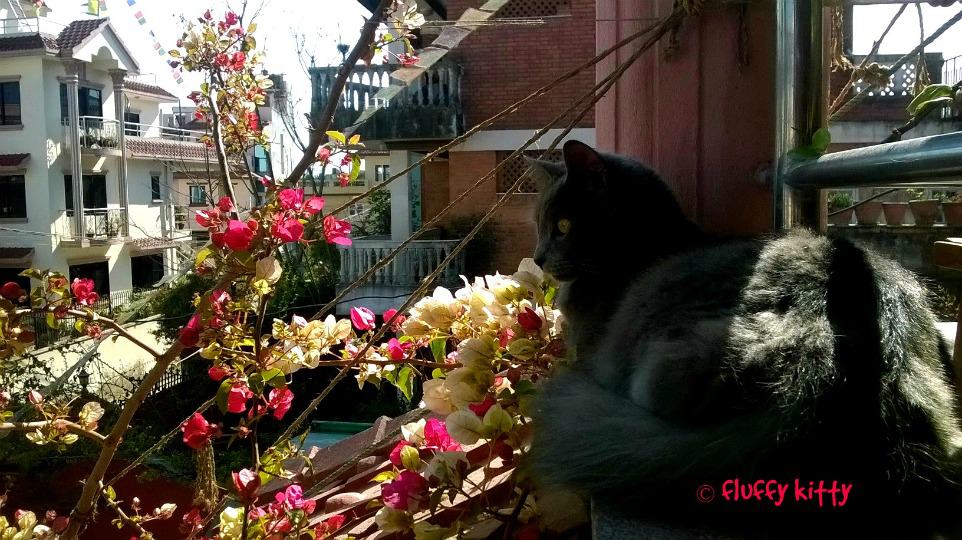 Flying With Your Cat Is Only The Beginning
Congratulations! You and your adventure kitty have done something few people ever have.

Did you have fun? Did your cat? Then maybe you have more adventures in your future. Oh, the places you can go!

Amazon Affiliate Disclosure: GoPetFriendly.com LLC is a participant in the Amazon Services LLC Associates Program, an affiliate advertising program designed to provide
a means for website owners to earn advertising fees by advertising and linking to amazon.com, audible.com, and any other website that may be affiliated with Amazon
Service LLC Associates Program. As an Amazon Associate, the owner of this site earns a commission from qualifying purchases.

(Visited 8,602 times, 1 visits today)



Credit : Source Post